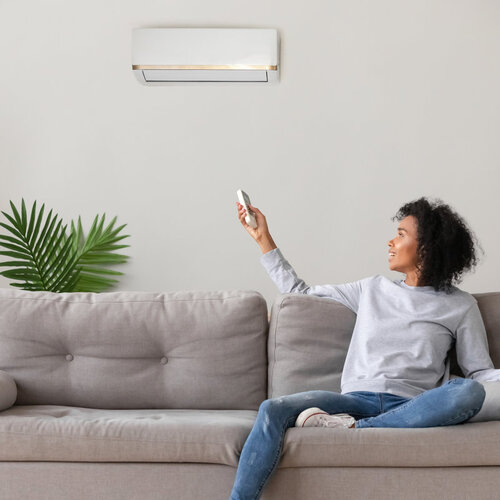 We Keep Your House Cool!
Rely Mechanical is your trusted partner for all air conditioning repairs and installations. For years, we've helped homeowners across Pennington, NJ get better performance and more years from their ACs. Call us to schedule service for your appliance, ducts, thermostat, or anything else you need. We'll send a technician to your house quickly to talk to you about options and find the best solution based on your budget and other factors. We're certified to handle any maintenance issues and will design a custom plan for new air conditioning unit installation. In addition, we work 24/7 to respond to customer emergencies if your AC suddenly stops working or you find any leaks. Rely Mechanical is the air conditioning service company you can depend on.
Call us now at (609) 737-7443 to book an appointment or for a free estimate on air conditioning repair!
The Best Local Air Conditioning Service Company
We repair, install, and service all air conditioning makes and models. We'll talk you through some choices over the phone, or we can send a team to your house to look in person. A free consultation is a fantastic way to determine whether you want to repair your existing air conditioner or replace an old unit with one that's new and ready to go for years. We keep your units in terrific shape all year, so you never have to worry about whether the AC will run.
Here's a look at some of the air conditioning services we offer property owners in Pennington, NJ.
A/C Parts Replacement – We replace any parts necessary to keep your air conditioner in good condition. Sometimes parts die out due to high usage or age. We fix coils, blowers, fans, compressors, and other parts to save you money and get more years out of your AC.
Air Duct Services – Having a great air conditioner isn't enough. You need a reliable duct system that funnels air efficiently around your house. If there's a leak or gaps in your ducts, it makes it harder to cool your house. Your AC has to work harder and longer to get the same results. Let us send a technician to ensure your ducts are sealed and ready for the summer. We install and repair ductwork for all home configurations.
Mini Split ACs – Have you heard of mini split AC systems? These are individual units designed to cool smaller areas or rooms. For example, many people install mini split ACs in their bedrooms. This way, you only need to turn on the smaller unit instead of cooling the entire home all night while everyone is asleep. It's an excellent way to save money and cut down on your energy usage. Mini split ACs can also extend the lifespan of your main unit.
Whole House Air Purification – Get the air quality you deserve. Our team knows how to eliminate pollutants inside your ducts and coming from your AC with advanced indoor air quality solutions. Talk to us about the tools we use to keep your air clean so that you can breathe easier.
24//7 Emergency Air Conditioning Service Company
Discovering significant problems with your air conditioning can be very stressful. If it's hot outside, not having a working AC can also be a safety concern, especially for more vulnerable people like young children. It's also important that pets have cool environments because some of them are very sensitive to high temperatures.
At Rely Mechanical, we offer fast, high-quality emergency AC repairs to keep your cool air on day and night. We know how frustrating broken air conditioners are, so we prioritize emergency calls to get to our customers faster. Our technicians can typically get to you the same day you call or the next day, so we'll have the AC back on as soon as possible.
When we get to your house, we'll inspect your AC to look for what's causing the issue. It could be an electrical problem or a malfunctioning part. Our team has years of experience fixing every imaginable problem, and we're confident we can identify what's wrong in minutes. Once we know what's happening, we'll start fixing the air conditioner.
How often do I need AC service?
Annual service will help you prevent AC emergencies and guarantee optimal performance. A good technician will also help you spot minor issues before they become expensive problems.
Reach Out for Service
Get expert air conditioning support from the leading local service company. Find out why homeowners choose us so often and discover the difference we can make for your air conditioning.
Call us today at (609) 737-7443 to book an appointment for AC service or for a free estimate on repairs!