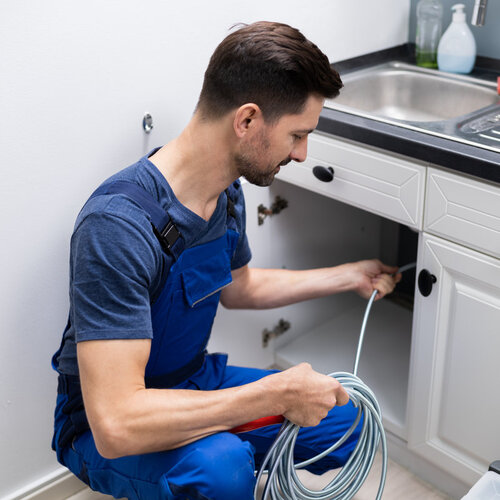 Fast Service to Clear Your Drains!
Clogged drains are a pain! Don't let slow drains and clogged pipes get in the way. Get help from an expert plumbing company based in Pennington, NJ. Rely Mechanical is the leading service provider in the area, with certified plumbers on call 24/7 to get you out of a plumbing emergency with the attentive service and quality results you expect. As a local plumbing service, we're able to get to our clients faster once they call. With us, there's no waiting around on hold or vague appointment times. We arrive on time and get the job done. Our certified plumbers use specialized tools to look inside your pipes to find the exact location of any clogs or blockages. We do this to avoid disruptive excavations, keeping your floors, yard, and pavement intact. Get the expert plumbing support you deserve, and ask for help with drain cleaning. We'll send a crew over in a flash to get your sinks, drains, toilets, and appliances working again.
Contact us now at (609) 737-7443 to schedule an appointment for drain cleaning or to ask about any of our plumbing services!
Comprehensive Drain Cleaning Services
We offer total drain protection to keep water flowing and your pipes clear. After you call, we'll send a technician to inspect your drain and any connecting pipes to look for the location and cause of any slow drains or complete blockages.
At Rely Mechanical, we're often surprised at just how long many property owners in the Pennington, NJ area live with slow drains. Partial clogs are a nightmare because they make it, so showers and sinks take forever to drain fully. What you get is a lot of standing water that leaves grime on surfaces and smells unpleasant. Eventually, they call us for help when they could have gotten drain cleaning much earlier!
Of course, we also offer 24/7 emergency plumbing support to clear severe clogs. If your toilet or sink doesn't drain at all, call us for fast service. Typically, we can get to you the same day you call or the next day because we know how frustrating it is to have a clogged toilet or sink.
What Causes Clogged Drains?
All sorts of things can clog drains. Some of the common culprits we see include:
Paper products
Hair
Food waste
Small toys
Dirt
Tree Roots
Anything that can fit inside the drain could cause a clog. In addition, older pipes are more susceptible to clogs because, over time, debris builds up inside the pipes, shrinking the diameter water can move through. Aging pipes are usually much easier to clog than new pipes.
As a result, it's often a good idea to replace old pipe sections, especially if you discover your toilet, sink, or some other drain is frequently clogging. Why pay for constant repairs when you can install a new pipe and not have to worry anymore? At Rely Mechanical, we inspect pipe systems to help homeowners know whether replacement or repair is the best solution. You can count on us for an honest assessment of your plumbing system, so you can make the best decision for your home.
Our Commitment to Customer Service
On top of our dedication to being the best local plumbing company in the area, we love giving our clients great customer service! We want to wow you with how responsive, polite, and punctual we are. Our plumbing solutions are all backed by a 100% guarantee. If you're not happy with the results, the job's not done. Our clients know they can trust us to find the best solution for their home, whether we're cleaning a drain or installing a new toilet. We're ready to do what it takes to be your long-term plumber.
Schedule Service Now
Call us today at (609) 737-7443 to book an appointment with a certified plumber and ask about our drain cleaning services!