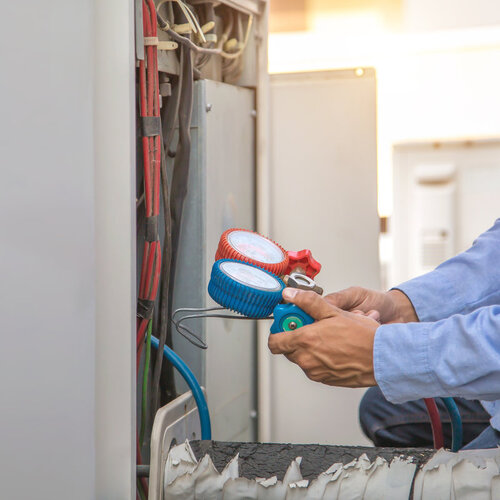 Fast & Affordable Heating and Cooling
Rely Mechanical offers professional air conditioner replacement and installation services for homeowners looking for the best deals on high-quality AC solutions. We're based in Pennington, NJ, and have been the leading air conditioning company in the area for years. Our team of certified HVAC technicians provides the best solutions for homeowners, finding ways to extend the lifespan of AC units with custom installation designed for optimal airflow. In addition, we configure air conditioning systems to save you money by using energy efficiently and using the best available models. Call us to speak to an AC expert and ask for a free estimate on new air conditioning installation. We can replace an aging unit or install a complete air conditioning system in your new home. Discover why local homeowners trust us for all their heating and cooling needs.
Dial (609) 737-7443 to book an appointment or to ask questions about air conditioner replacement and installation!
Signs You Need Air Conditioner Replacement
At some point, every homeowner will need some type of air conditioner repair. Whether it's emergency repairs or simple parts replacement, AC maintenance is part of homeownership. No one loves having to fix a broken AC unit, but unfortunately, they don't last forever.
But how do you know when it's time for normal repair versus a replacement?
Typically, replacement is the better option when repairs start happening more frequently, or the cost of repairs is comparable to installing a new air conditioning unit. At Rely Mechanical, we offer AC inspections before every repair to understand what's needed and how much it will cost. That way, homeowners can decide whether to repair their existing unit or opt for replacement services. You can trust us for honest recommendations on when the time is right to replace your AC. We treat your home the same way we would ours and give you the information you need to get the best value and performance.
Once you decide replacement is the best choice, we'll handle everything from beginning to end. Our team will remove the damaged unit and install a new air conditioner. In addition, we can check your ducts to ensure they're in good shape and ready for the new AC.
New Air Conditioner Installation
Is it time for an AC upgrade? Whether you're building a new home or want better air conditioning performance, we offer the best deals on AC installation in Pennington, NJ. We have certified technicians ready to custom-fit the highest-quality air conditioning units available inside your home. Our team will design an installation plan to fit your budget and performance needs.
Are you interested in mini split AC systems? We carry a large inventory of the best makes and models to make the installation process easy. Ask us about the benefits of mini split systems and how they can save you money.
New air conditioners are more energy efficient and powerful than in past generations. You'll love the way your new AC works and keeps everyone inside comfortable without breaking the bank when the utility bills come. We'll also talk to you about ways to keep your AC in great condition for longer, so you put off a replacement and get more years from your appliances.
Get HVAC support from the local service provider homeowners trust. We're committed to delivering the best possible results at affordable prices to keep you cool in the warm summer months. A working AC makes life more comfortable. Stop dealing with poor performance or worrying about whether your air conditioning is up to the task. We can get to you quickly to handle installation or replacement for any home configuration.
Schedule Your Service
Has your current air conditioning system seen better days? Get in touch with us today to schedule your Call us now at (609) 737-7443 to book your appointment with a certified HVAC technician! Ask us questions about air conditioning installation and learn more about our process. Get a free estimate today!