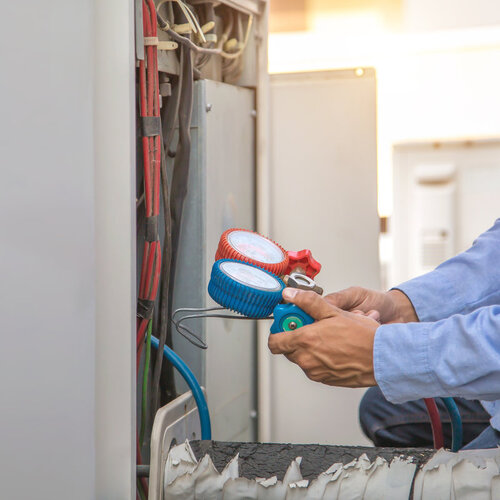 Your Resource for AC Installation
If you need air conditioner installation or air conditioning repairs, your best bet is to call the pros at Rely Mechanical. But what is it that sets them apart from other air conditioning companies? The short answer is – a lot. The long answer is that they've been perfecting their air conditioning services, including air conditioner replacement, for many years. They know the air conditioning units on the market better than anyone else, and they have the experience to properly install your new air conditioning system correctly the first time so you can get back to living comfortably. If you are looking for air conditioner replacement in Pennington, NJ, reach out to our team. Call us at (609) 737-7443.
When You Need Air Conditioner Replacement
There will always come a time when air conditioner replacement is necessary. While it's typically recommended to replace air conditioning units every 10 years, there are circumstances when air conditioner replacement may be required sooner. If you're experiencing any of the following issues, it may be time for air conditioner replacement:
A frequent need for repairs
Strange noises coming from your system
Weak airflow from your system
Higher-than-usual energy bills
There are also a number of benefits that come along with air conditioner replacement that may give you the incentive to have a new unit installed. Perhaps the most obvious is improved cooling power. A new air conditioner will almost always cool your home more effectively and efficiently than an older model. Additionally, you are likely to see a decrease in your energy bills after having an air conditioner replacement. New air conditioners are designed to be more energy-efficient than older models, so you may start to enjoy some savings on your monthly utility costs.
If you're experiencing any issues with your air conditioner or would like to experience the many benefits that come with replacing an air conditioning unit, our team can be there to help. We offer air conditioner replacement using only the best air conditioning equipment currently on the market. Our team will work with you from the moment you get in touch to schedule your air conditioner replacement service, beginning with finding the air conditioning system best suited to your home and your individual needs. We'll then provide your new air conditioner installation, ensuring that your new air conditioner is placed in your home or building correctly so you can get back to living your life.
We've been providing air conditioning services to homeowners in this area for many years, offering help with everything from emergency air conditioner repair to air conditioner parts replacement. We understand the unique challenges that come along with air conditioning installation in this region, and you can be certain that our team is up for the task. At Rely Mechanical, we're proud to have a reputation for providing high-quality air conditioning services at a fair price.
Please also note that our air conditioner replacement services are designed to be as seamless and stress-free as possible for our customers. We will get into your home, provide your new air conditioner installation, and clean up any mess left behind. Our team will complete the job quickly and ensure there are no issues with the installation of your new unit. If any issues do arise we will come back out to resolve the issue, though we are confident your job will be completed with no problems. When you choose us for air conditioner replacement, you can count on getting the job done right – the first time.
Schedule Your Service
Has your current air conditioning system seen better days? Get in touch with us today to schedule your appointment for an air conditioner replacement in Pennington, NJ. We'll work with you to find a time that is convenient and will arrive promptly to provide you with our usual brand of high-quality air conditioner services. If you are ready to learn more about what our team can do for you, give us a call at (609) 737-7443.