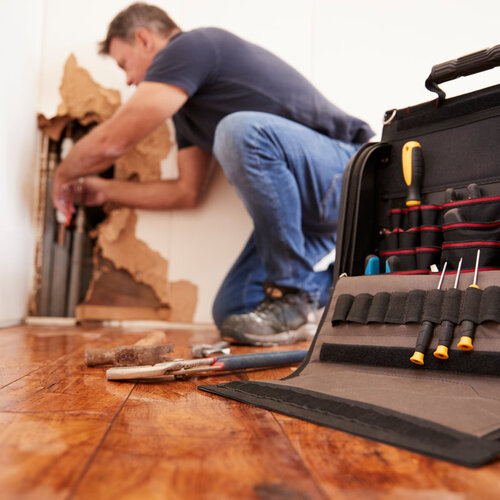 Get Help for Your Plumbing 911
Emergency plumbing repairs may be needed for a wide variety of reasons. One of the most common problems that plumbers face on a daily basis is drain clogs, which can be caused by all sorts of things from grease and food to hair and soap scum. Other issues that come up often are leaks, which can be caused by everything from a loose washer to a broken pipe, and which can cause many more issues in your home if left unchecked. No matter what the problem is, it's important to have a reliable plumbing company that you can call on in a pinch. That's where we come in. At Rely Mechanical, we offer emergency plumbing repairs in Pennington, NJ and surrounding cities that can get your home's plumbing back to normal in no time at all. Call (609) 737-7443 to learn more about what we can do for you.
Identifying the Need for Emergency Plumbing Repair
In many cases, it can be difficult to determine if a plumbing issue is an emergency. For example, a small drip from a faucet might not seem like much, but if it's left unaddressed, it could lead to a much larger problem down the line. On the other hand, a major leak or blockage is usually pretty obvious and definitely needs to be taken care of as soon as possible. If you're ever uncertain whether a plumbing issue you are facing could require emergency plumbing repair, here are a few tips to help you decide:
If the issue is causing water damage to your home, or has the potential to cause water damage if not taken care of quickly, it's definitely an emergency.
If you can't use any of your plumbing fixtures, it's probably an emergency.
If the problem is a drain clog and it's not been cleaned in a while, that can also be classified as an emergency.
A broken pipe is usually an emergency, especially if you can see water gushing out.
If you're still unsure, it's always better to err on the side of caution and give us a call. We'll be able to assess the situation and let you know if emergency plumbing repair is necessary.
Reach Out Today
When you call us for emergency plumbing repair, we will send someone out to address the issue right away. Our experienced plumbers are always available to help you with any plumbing issue you might be facing, no matter how big or small it may be. We understand that plumbing problems can happen at the most inconvenient times, which is why we offer our emergency plumbing repair services. We'll be there to help you when you need us the most.
In addition to emergency plumbing repair, we also offer a variety of other services, including drain cleaning, water heater installation and repair, and more. This is in addition to our air conditioning services and heating services. No matter what your plumbing needs may be, we can be there for you to address the issue and prevent it from becoming a far bigger, and far more expensive, problem.
If you have found yourself in need of emergency plumbing repair in Pennington, NJ or the surrounding area, we invite you to give us a call. Reach out at (609) 737-7443 to schedule your service.