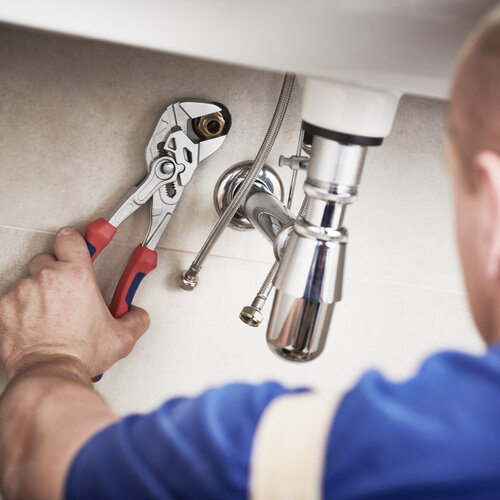 Complete Residential Plumbing Repair Services
Rely Mechanical is the leading local plumber in Pennington, NJ. We offer homeowners a full range of plumbing solutions designed to protect their homes and ensure good long-term performance at affordable prices. Our certified plumbers are punctual, polite, and experts at what they do. Whether you need plumbing installations for a garbage disposal, toilet, or fixtures, or you need 24/7 emergency repairs, our team will get to you quickly to deliver the quality results you need. We're proud to serve the local community with custom residential plumbing solutions that make a difference. We aim to exceed your expectations on every project with attentive service and plumbing you can rely on. Our mission is to deliver the best plumbing repairs and installations you can find.
Call us now at (609) 737-7443 to book a plumbing appointment or to learn more about our services!
The Total Plumbing Package
At Rely Mechanical, we've got you covered! We're the only call you need to make whenever you need help with your water line, sewer line, or any other part of your plumbing system. For years, we've dealt with everything from custom installations to emergency repairs, and our team is committed to helping homeowners across Pennington, NJ.
Here's a look at some of the services we offer:
Pipe Repair – We used advanced plumbing technology to find and fix broken or burst pipes. Our team will be there as fast as we can to stop leaks and prevent damage to the carpet, floors, and drywall. We typically carry a large supply of pipes with us all the time, which makes repairs go fast and easy.
Drain Cleaning – Stop living with slow drains that take forever to empty. Poor drain performance is a sanitary issue, and it's frustrating for homeowners. We clear drains for a living and will do what it takes to keep your drain free from paper products, hair, and other debris. Let us look at how we can get your drains moving again. We also offer emergency drain cleaning services for complete clogs.
Emergency Plumbing Repairs – Don't hesitate to call us day or night when you need fast plumbing support. We deliver 24/7 emergency plumbing repairs to get your problems fixed quickly. If you're having severe trouble with your pipes or an active leak, we'll get a team to you as soon as possible.
Fixture Installs & Repair – Nice plumbing fixtures look nice, but they also are very functional. Good fixtures make your plumbing work better with reactive knobs and faucets. At Rely Mechanical, we have a large supply of some of the best fixtures available at fantastic prices that will look great in your home. New fixtures are a terrific way to upgrade your kitchen or bathroom without the heavy price tag of renovation.
Garbage Disposal Repair & Installation – Having trouble with your garbage disposal? If so, we can help! While they're awesome tools, garbage disposals frequently run into trouble because food can easily get caught inside the many small moving parts. In addition to repairs, we also provide custom garbage disposal installation for when you're building a new kitchen or upgrading your layout.
Hydro Jetting – We use powerful water jets to clear out old pipes and free them from years of grime without digging your lawn up. With hydro jetting, you can increase the diameter of older water and sewer pipes, increasing water flow and loosening up stuck drains. Contact us to ask more about the benefits of professional hydro jetting.
Tankless Water Heaters – This is a good option for people in smaller spaces who don't want a large water heater tank in their basement or closet. Tankless water heaters are also very energy efficient. They heat only the water you're using at the time, so it typically cuts down your utility bills. Learn more about the latest models of tankless water heaters and get a free quote.
Water Heater Replacement – We also offer traditional water heater replacement services. While we do some repairs, fixing a water heater tank is typically more expensive than installing a new one. As a result, replacement is usually your best option. Talk to us about pricing and learn about the latest water heater models.
These are just some of the plumbing services we provide local homeowners. They know they can turn to us for honest recommendations and high-quality work. Call us today at (609) 737-7443 to book an appointment with our team or for a free estimate on any plumbing service!