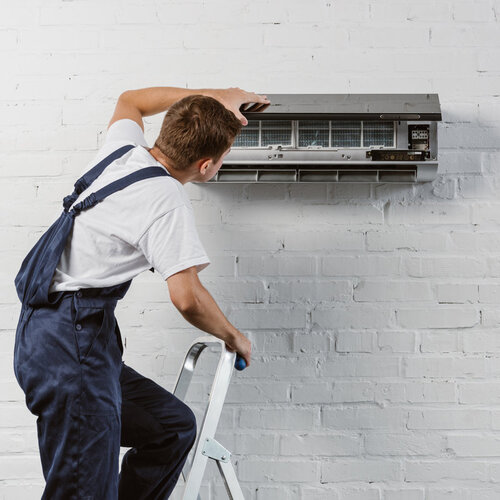 Call Us 24/7 for Repair
Rely Mechanical is the area's leading air conditioning repair service! Based in Pennington, NJ, we offer the support you need to keep the air on and stay cool indoors. Frequently, air conditioning appliances run into trouble at the start of hot summer seasons or when they're running for days straight. Our team frequently helps local property owners with emergency air conditioner repair that gets things back online fast. We're local, so we can get to you faster for cleaning, parts replacement, and other maintenance that will improve air conditioning performance day or night. Talk to us about what's happening with your air conditioning, and let us send a team to look. We'll conduct a rapid inspection to find what's wrong and will fix your cooling system at an affordable price. When an emergency strikes, you can count on us for fast service and quality repairs.
Call us now at (609) 737-7443 to book an appointment for air conditioning repair or to ask questions about any of our services!
Quality Emergency Air Conditioner Repair
We've been serving the local community for years with 24/7 emergency support. The last thing you want to hear is that you have to wait for days after coming up against an air conditioning emergency. Sometimes, a lot more is at stake than your comfort. A working air conditioner is essential for older people, children, and pets. In addition, problems with your air conditioner throw a wrench in routines. Worrying about whether your AC will work when you turn it on is very stressful.
At Rely Mechanical, we offer the best deals and fastest service in the greater Pennington, NJ area. We'll pick up the phone when you call, and we can typically get to the same or the next day.
Call us if you're encountering signs of air conditioner distress like:
Odd noises
No cool air
Rattling sounds
Unresponsive thermostats
Safety issues
If you see any of these or other issues, contact us to schedule rapid repairs!
Excellent Customer Service & Quality Repairs
Rely Mechanical has the best deals on emergency air conditioner repair and other services. We're committed to helping local property owners and businesses by keeping their appliances and duct systems in great shape. Our team will find ways to lower your ownership costs by maintaining your cooling system to prevent repairs and expensive renovations.
We work around the clock to deliver the support you need any day of the week. With certified HVAC technicians, we've got years of experience fixing any issue you can imagine. We'll find what's wrong and get your air conditioner back online in no time.
As a local company, we know our success depends on our ability to keep our customers happy with working air conditioners. We'll respond in a timely manner to your call and will be there as quickly as possible to help with any type of emergency. Find out what we can do for you, and let our team do the rest!
Give Us a Call
Contact us now to get a free estimate on any air conditioning repair and schedule an appointment with one of our expert technicians! We're here to make your life easier with an air conditioner service you can trust. Book an appointment now by calling (609) 737-7443!