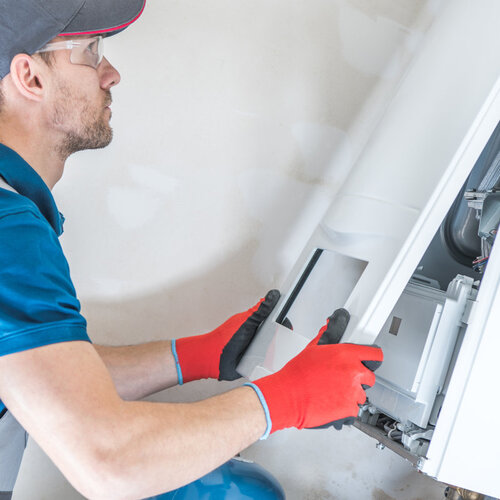 We Keep Our Clients Warm!
Get fast, professional heating service from Rely Mechanical in Pennington, NJ! We are the leading heating company in the area, with experience technicians ready to help you with any type of repair or installation. Working heat is a must where we live, so keeping your appliances, ducts, and other heating system components in good condition is essential. We offer great deals on everything from furnace maintenance to emergency heating repairs. Our team works with gas, electric, and other appliances to guarantee you have the heat you need at affordable prices. Find out how we can help you save money and keep your heating working better for longer. Ask for a free estimate on any heating service.
Call us now at (609) 737-7443 to book an appointment with a certified HVAC tech and get started today!
Emergency Heating Repair
We offer 24/7 emergency HVAC repair to find and fix problems with your heat. When a furnace stops working in the winter, you need our support to get things back online quickly. Going without heat is uncomfortable, certainly. However, it can also be a safety risk when temperatures drop too low. Older people, children, and pets are all more vulnerable to the cold, so we make getting the heat back on a priority.
Fast Heater Parts Replacement
Broken or damaged parts are often the reason your heating system is having trouble. Modern heating appliances are generally very durable but don't last forever. However, we won't recommend replacement unless it's the best option. Typically, parts replacement will add years to your furnace's life and keep it generating dependable heat during the coldest winter months.
Our team will be there fast to inspect your heating system and make the parts replacement you need for the best results. We carry a large inventory of parts that work with every make and model.
How to Tell My Furnace Needs Repairs?
Early repairs are vital to keeping your furnace in good condition. If you wait too long, parts replacement becomes more difficult, and you could end up having to pay for a more expensive replacement. Here are some things to look for to know when you should call Rely Mechanical.
Strange noises are coming from your furnace
Slow response from the heating system after you turn on your thermostat
Lack of heat coming from your vents
Parts of the home get hot, and others stay cold
Unexplained higher utility bills
Anytime you notice something unusual, it's always a good idea to call for professional support. We'll get a team to you to inspect your system and find what's wrong.
Professional Heating Maintenance
We recommend annual maintenance to avoid unexpected heating outages and performance issues. Our technicians handle cleaning and parts replacements to keep your appliances working reliably for years. You'll have instant heat once you turn it on and will need less energy to get the warmth you need at home. We're proud that our work saves homeowners in Pennington, NJmoney and time. Get the peace of mind you deserve knowing that your home is in good hands.
My heat won't turn on. What's wrong?
Troubleshooting your furnace can help determine why the heat's not turning on. You could have a broken circuit board or a problem with your fuse box. Ask for a professional technician if you can't find what's wrong.
Excellent Heating Company Customer Service
Whether you need a new thermostat installed or have a heating emergency, you can count on Rely Mechanical for excellent service and quality results. We use the best parts and most experienced technicians to deliver the support you need for great long-term heating performance.
Our team is focused on being the best heating company in the area. If you're dealing with lackluster heating or are worried about problems with your furnace, call us to get some help. We work around the clock to keep you and your family warm. Discover what we can do for your heating system now, and let us handle the rest.
Dial (609) 737-7443 to learn more about our services and schedule an appointment with our team!