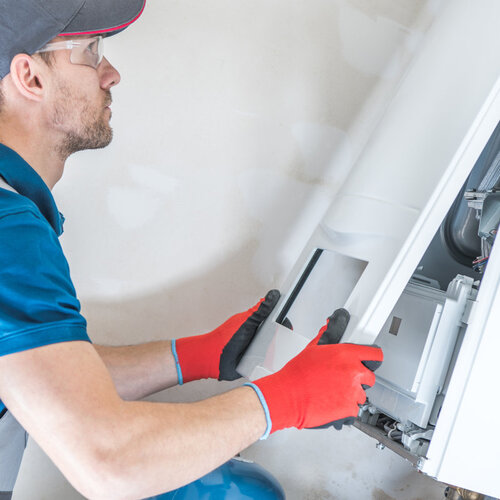 Superior Heating Services
When it comes to heating your home, you want the best service possible. That's why Rely Mechanical is here to provide you with top-notch heating services that will keep you warm all winter long. We provide our customers with a wide range of heating services to choose from. This means that you can get the help you are searching for regardless of the issue you are facing. If you are looking for a heating company in Pennington, NJ or the surrounding area you can rely on, reach out to us. Give our team a call at (609) 737-7443.
A Heating Company You Can Rely On
Whether you are in need of a new heating system installation, repairs to your heating system, or just seeking general maintenance, the Rely Mechanical team can help. Our heating company has years of experience in the heating industry, so you can trust us to get the job done right, regardless of the issues you are facing with your heating system.
Heating system issues can pop up at any time, and it's important to know how to handle them when they do. Common heating system issues can include a heating system that will not turn on, a heating system that is making strange noises, and one that is not heating your home properly. If you are experiencing any of these issues or others, don't hesitate to reach out to our heating company for assistance. Additionally, when you aren't certain of what is causing your heating issue, we can be there to troubleshoot the problem and identify an effective solution. Additionally, you can count on the fact that our heating company can be there to assist you with heating systems of all types. This includes both electric furnaces and gas-powered furnaces. Additionally, our team can be there to lend a hand with any help you need with the boiler in your home, whether you are seeking repairs or a full replacement of your system.
The experienced technicians at Rely Mechanical can also help with parts replacement for your heating system, giving you an affordable and effective way to get your heating system back in shape. We keep a wide range of parts in stock, allowing us to lend a hand with everything from circuit control boards and ECM motors to the HVAC thermostat attached to your system. You can also count on the fact that all of the parts we use in our parts replacement services are of the highest quality. This means that regardless of the kind of help you receive from us you can be certain of the fact that your heating system will be operating effectively and keeping you warm on the completion of our services.
Why won't my heating system turn on?
There are a few reasons why your heating system might not turn on. The most common reason is that the thermostat is not set correctly, though other problems can include a tripped circuit breaker or a blown fuse. If you have checked those things and your heating system still won't turn on, it may be time to call a professional.
What are the signs that my heating system needs service?
There are a few signs that your heating system may need service. If it's making strange noises, if it's not producing heat, or if it's turning on and off frequently, those may be signs that something is wrong. If you're not sure, it's always a good idea to reach out for help.
Reach Out for Service
When you work with the team at Rely Mechanical, you can be sure that you are getting heating services from a team that knows what they are doing. We have years of experience in the heating industry, so we understand the ins and outs of heating systems of all kinds. This means that we can provide you with effective assistance when it truly counts.
If you are seeking a heating company in Pennington, NJ, you have many reasons to reach out to the team at Rely Mechanical. From the many different types of help we offer to the knowledge and experience of our team, you can be sure that you are getting top-notch heating services when you reach out to us. Give our team a call today and we would be happy to discuss the heating services we offer in detail with you as well as answer any questions you may have, giving you everything you need to make the right decisions about your heating system and any heating services you may require.
We look forward to hearing from you soon and getting started on helping you with all of your heating needs. Call us at (609) 737-7443 to schedule heating services with our team.