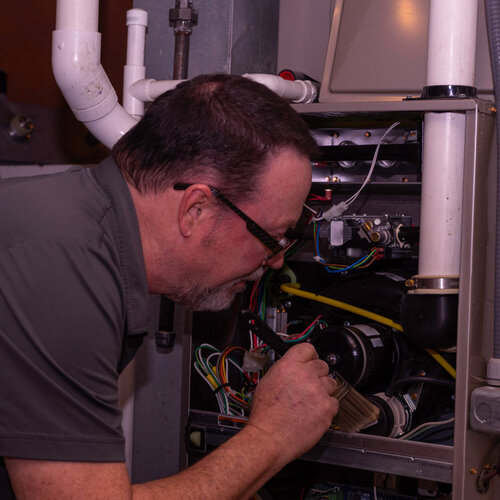 Reliable Heat Guaranteed
Heating systems mean a lot to families in Pennington, NJ. When the winter months arrive, staying warm is essential for comfort and safety. At Rely Mechanical, we keep you nice and toasty with professional gas furnace repair and replacement. Our team can fix any problem and replace broken parts with quality and attentive service. We use only the finest materials designed to extend the lifespan of your furnace and prevent future heating emergencies. Find out how we can help you with gas furnace repair at a price that you can afford. Ask us for a free estimate on any repair or replacement, and let a skilled heating pro do the work. We work 24/7 to provide emergency care when your heat goes out unexpectedly, and you can count on us for honest recommendations on whether it's finally time to upgrade.
Contact us today at (609) 737-7443 to hear more and book an appointment with a certified HVAC technician!
Professional Gas Furnace Repair
Modern gas furnaces are designed to last for years. They're powerful and durable, which is why they can cost a lot! At Rely Mechanical, we work closely with homeowners here to keep their gas furnaces working for longer. Our team inspects furnaces to find faulty parts and replace them with new working components that make things work like brand new again.
If you're having trouble with your gas furnace, talk to someone on our team, and we'll get to you quickly to get your heat back online. Here are some things to look for to know when to call for professional heating support.
Strange noises coming from the furnace
Uneven heat throughout the home
Foul odors
Lag between turning on the thermostat and heat coming from vents
No hot air coming from your furnace
Our team will know whether you need a new blower or fan. We've spent years working on every type of maintenance issue, and we'll have the answers to your problems.
Gas Furnace Replacement Services
When is it finally time to upgrade your gas furnace? We know it's an expense most homeowners would rather not take on. However, a gas furnace replacement can make a huge difference in your heating system performance. In addition, a new furnace can save you money on your utility bills because newer models usually run more efficiently, burning less gas each month.
At Rely Mechanical, we work closely with homeowners to help them make the call on replacement. Typically, when repairs approach or exceed the cost of a new furnace, it's time to make the switch. When you're ready, we have a large variety of options to choose from. Our team will present different choices based on your budget and performance needs. Once you know what you want, we'll handle the entire replacement process, removing your old furnace and installing the new one. We'll check that everything is performing at an optimal level and talk to you about how to get the most value from your new appliance.
Discover why Rely Mechanical is the area's leading HVAC service. Ask us about any of our HVAC services in Pennington, NJ, and let us get started today.
Schedule the next available appointment with a certified HVAC technician by calling (609) 737-7443 today!