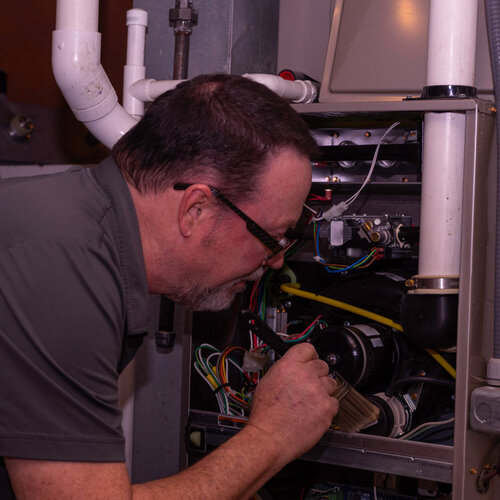 It's Time to Get Things Heated
If you're like most people, you take your furnace for granted. You turn it on in the fall and off in the spring, and that's about all you think about it. But what happens if your furnace breaks down? Dealing with a damaged furnace can be stressful, especially when it breaks down during the cold winter months. That's why we do our best to make gas furnace repair as simple as possible for homeowners. When you find yourself in need of gas furnace repair in Pennington, NJ, reach out to Rely Mechanical for the help of skilled heating pros who will get your system up and running again in no time at all. Give us a call at (609) 737-7443.
Professional Gas Furnace Repair and Replacement
When it comes to gas furnaces, there are a few key signs that homeowners should be on the lookout for so they can catch problems before they become far bigger issues. Among the biggest things to watch out for are a larger than usual increase in your energy bill when using your furnace, rattling or banging noises coming from the furnace, and a yellow flame as opposed to the usual blue flame. One of the most notable issues and one that requires urgent gas furnace repair is a gas leak, something that can be dangerous to you and your home as well as damaging to your heating system.
If you notice any of these signs, give us a call right away and we'll come out and take a look at your furnace. We can provide gas furnace repair for a wide variety of issues, such as gas leaks, blower motor problems, thermostat malfunctions, and much more.
We can also help with gas furnace replacement if your system is beyond repair. In most cases, gas furnace repair may be all that's needed to get your system up and running again. But in other cases, a full replacement of your furnace may be necessary. The average life expectancy of a furnace ranges from about 15 to 30 years, so a gas furnace replacement is typically recommended if a furnace has reached this age and is experiencing issues.
When you choose to work with us, you can be sure that you're getting the best possible service regardless of what it is that you need. We have years of experience repairing and replacing gas furnaces, and we always put our customers first. This means that we will keep you informed throughout the process, beginning with troubleshooting your gas furnace issues and identifying the best possible course of action, whether that is a gas furnace repair or replacement.
Reach Out Today
If you need gas furnace repair in Pennington, NJ, or suspect you may need gas furnace replacement, reach out to us. Our company has been providing gas furnace services for years and we're committed to making sure that our customers are always satisfied with the quality of work they receive. In addition to our gas furnace repair and replacement services, we can be there to lend a hand with electric furnace repair as well as boiler repair if needed. This way, homeowners can always be certain they have the help they are looking for to keep their heating system in the best shape possible and to keep them warm even on the coldest nights of the year. Give us a call at (609) 737-7443 to get started.