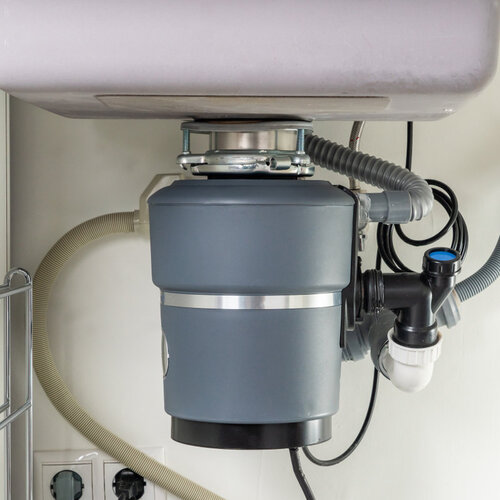 The Kitchen Appliance Experts
Garbage disposals are a modern kitchen luxury. They make food prep and cleanup so much easier. Instead of food scraps sitting in your trash causing foul odors, you can flush them down the disposal, grind them up, and send them on their way. In addition, a good disposal prevents drain clogs and keeps your kitchen smelling fresh. At Rely Mechanical, we have certified plumbers who offer garbage disposal and repair services to homeowners across Pennington, NJ. We're the team to call when you need to get your garbage disposal working again. With years of experience fixing every type of disposal problem you can imagine, we will make short work of repairs at a price you can afford. In addition, we install new garbage disposals for new homeowners or as part of kitchen upgrades.
Contact us today at (609) 737-7443 to book an appointment for garage disposal repair or installation!
Expert Garbage Disposal Repair
Garbage disposals involve small parts and a lot of power. They can be dangerous, which is why it's always a good idea to ask for professional assistance when you need repairs. Don't risk getting injured trying to fix things yourself. Ask one of our certified plumbers for help. We know how to inspect and diagnose your appliance to find exactly what's wrong and fix it. We replace any damaged parts and put your disposal back together again. After we're finished, it will look and act like new.
How do you know you need garbage disposal repair? Here are some signs you should give us a call.
Prolonged foul odors coming from your sink
Strange noises when you turn on the disposal
An unresponsive garbage disposal
Slow-moving drains
Leaks underneath your sink
These and any other signs of trouble mean you need a plumber's help. We're local, so our technicians can get to you quickly and get your appliance working again.
New Garbage Disposal Installation
Do you need professional garbage disposal installation?
At Rely Mechanical, we take care of all the details, from helping you choose the perfect appliance for your kitchen, to custom installation that seals against your sink and prevents leaks. Homeowners in Pennington, NJ turn to us for the best deals on new garbage disposals at affordable prices. We know what model will look and work best in your home. Our team will measure and install your device, so you can start enjoying the many benefits of having a garbage disposal in your kitchen. Call us today for a free estimate on installation, and let our team get started today.
Call Rely Mechanical
Book your appointment with a certified plumber by calling (609) 737-7443 now! We also offer 24/7 emergency plumbing repairs!